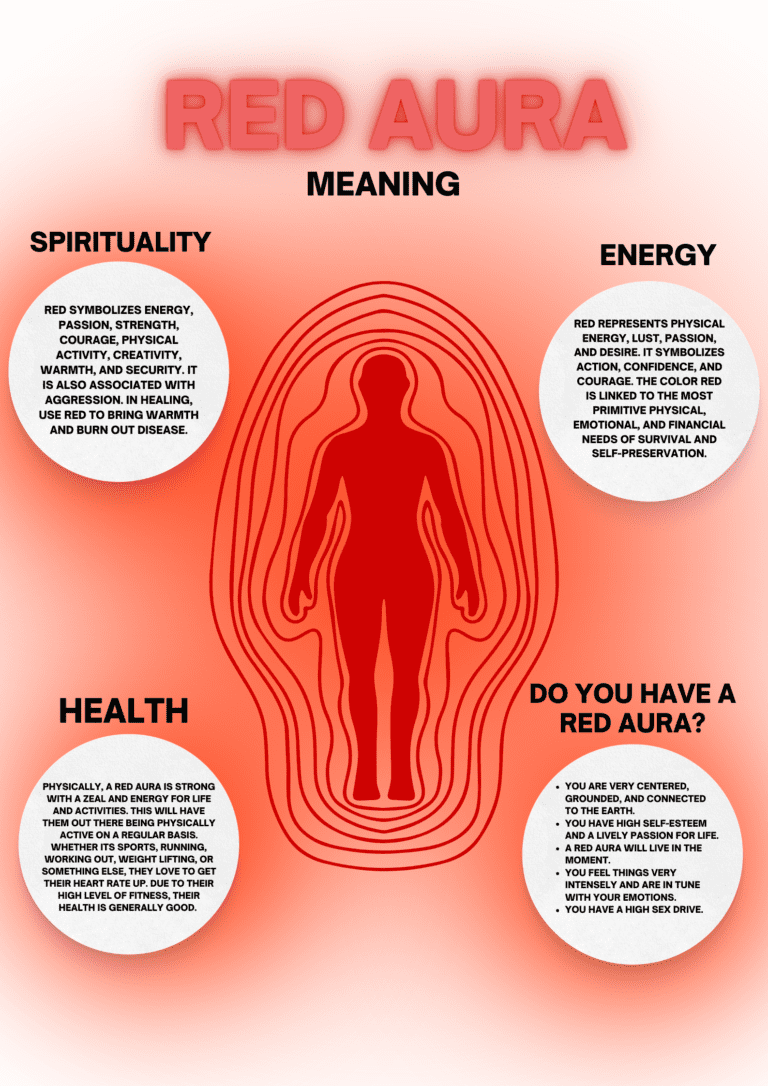 ---
Everyone has an aura—an unseen energy field—that encircles them. Read this post till the end to know A to Z about Red Aura.
The fact is, your aura will vibrate at a specific frequency that depends on how you feel. And this change in frequency may give your aura a specific shade or shades.
So, auras keep changing on the basis of your mood. But most of you may have just one or two colours in your aura. These hues consistently show up and generally include purple, blue, white, green, or even black.   
You may think, What is my aura colour?
Doing an aura reading, trying an aura colour quiz, or getting your aura portrait made can help you know quite a lot about your aura colour. 
Today, we are going to take a deep dive into red auras, which are believed to be the fiercest of all.     
The Varied Hues Of Red Auras And Their Context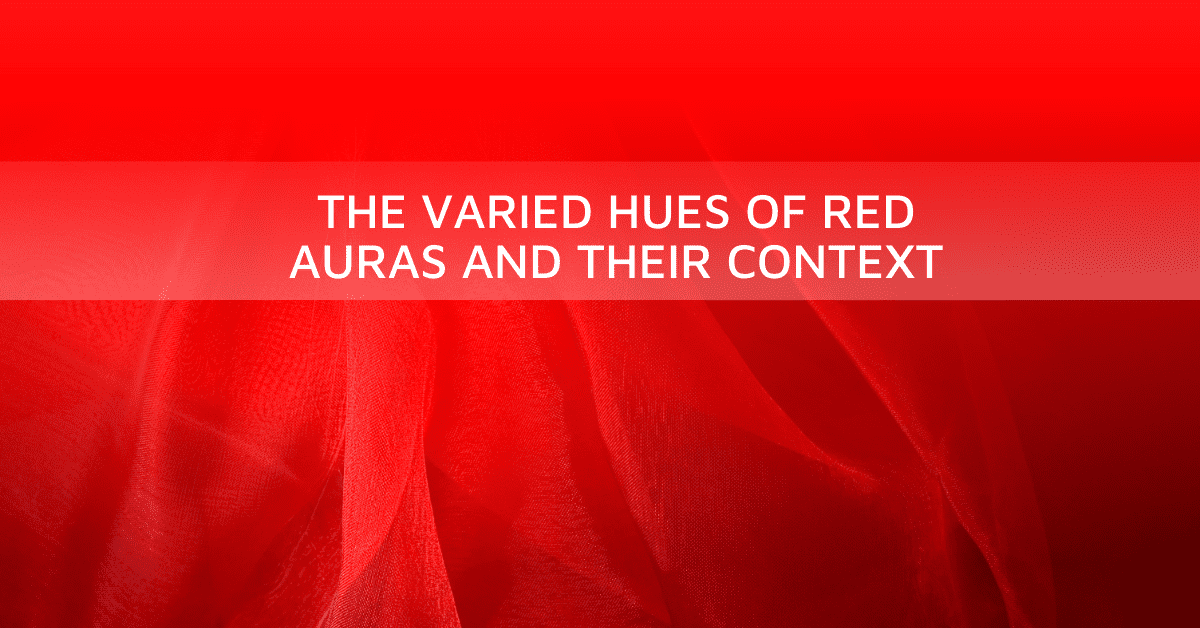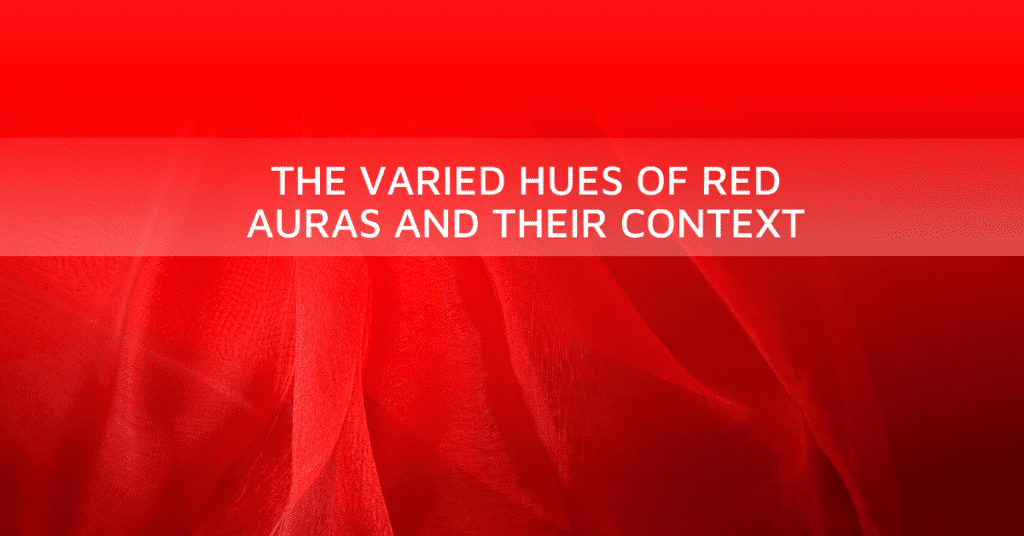 In general, red is the colour of passion and intense feelings. So, it is safe to assume that a red aura is about ferocious intensity. A red aura signifies the root chakra—it is the first chakra developed within the first seven years of your life. And the root chakra represents security, instincts, grounding, and the physical plane.
The most celebrated aura readers all over the world believe that red denotes immense courage, high physical energy, and deep passion. Having red colour as your aura means you have actionable energy, which helps you remain rooted and become more courageous than ever. Here are two of the most common shades of red appearing in people's energy fields. 
Blood Red
If the red of your aura appears a bit darker, murkier, or has a blood-like appearance, this could point toward rage. If you have this aura, you will likely get into fights, confrontations, and incidents of road rage.
Cherry Red
If your aura is cherry red, then that is a very good shade to have. Having this cherry red aura means you are a positive person. People with this shade of aura believe in teamwork and are often respected leaders. Having this aura means you champion justice and are fair.
What Happens When You Have This Aura?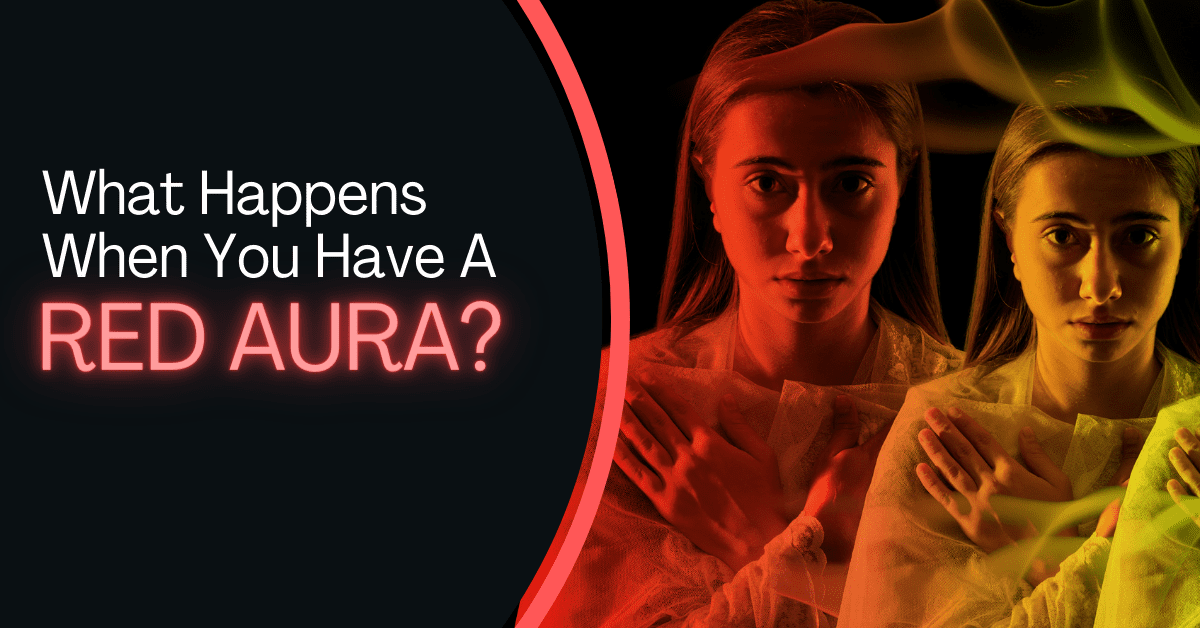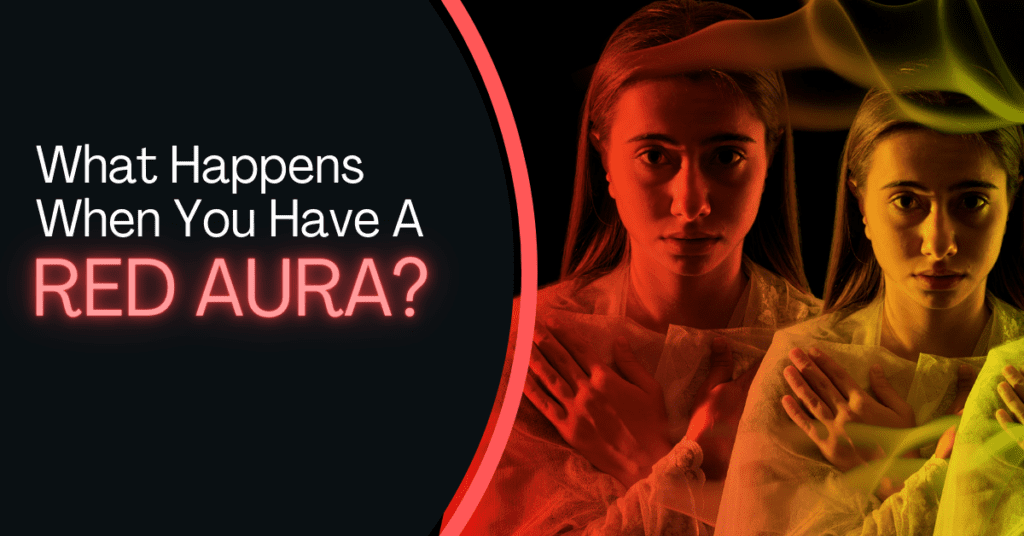 When someone has a glowing red aura that is hard to ignore, then it may mean that they are going through an emotional or passionate time in their lives. Similarly, someone can conjure a pretty visible red aura whenever they are embarking on a new project or beginning a fresh relationship. Moreover, you may associate the colour red with the "stop" sign.
Because of that reason, it makes sense for red auras to become showstoppers in their own ways. People with red auras do not feel sorry and are often confident, loyal, and grounded. Moreover, these folks are often pretty adventurous—however, they do not do too well with any kind of change. 
All in all, the personality of people with red auras will ooze with passion. They will often have a need to lead, and they will eloquently express this need to be ahead of the pack many times. So, if you have this aura, you will be active and engaged; in fact, you will be more active and engaged than anyone with a purple aura. (A purple aura is more about having your head in the clouds and being divorced from reality.)
What Challenges Come In Your Life If You Have This Aura?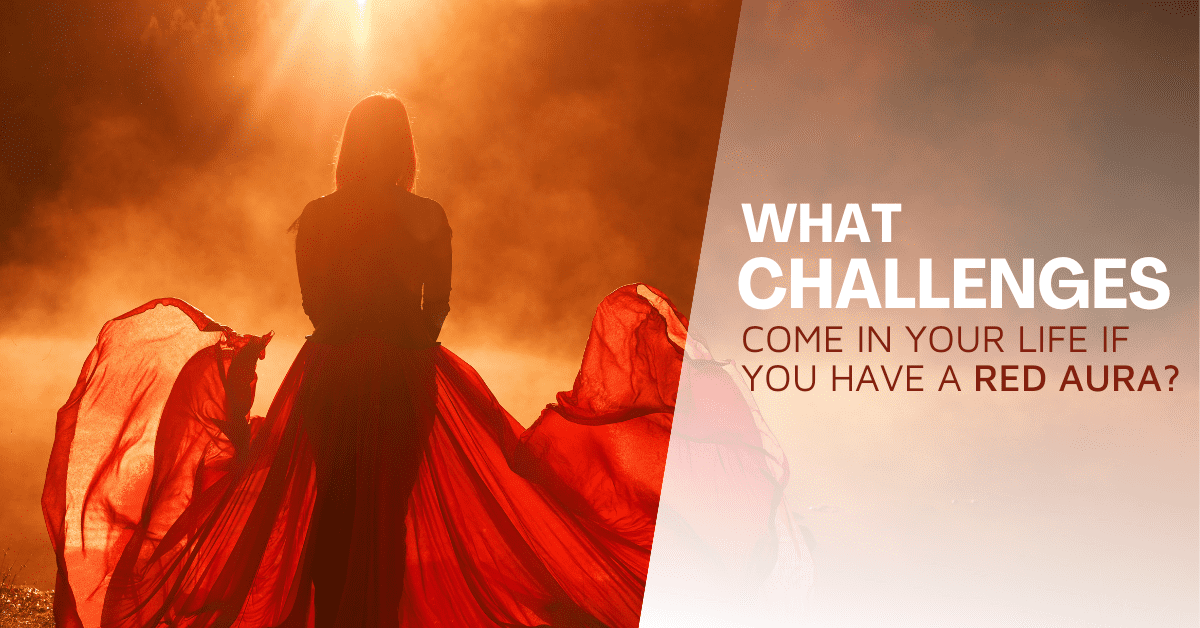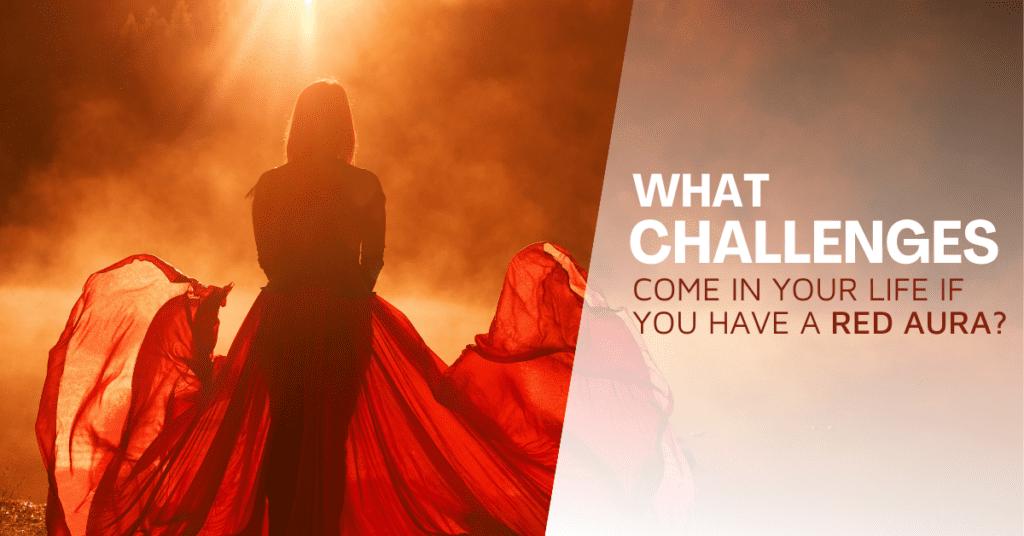 Anyone with red as their aura makes passionate, and passion makes anger their dominant emotion. People with red auras can have anger-management issues; they are likely to suffer from rage. Moreover, red auras can be stubborn sometimes, making them resist change. As people with this aura want to lead, they do not like when someone else is the leader. 
So, if there is one word that defines someone with a red colour aura, it has to be 'hotheaded'. Whenever you see an animated figure going red in the face, then that signifies unprocessed anger. People with red auras are sensual, making their romantic relationships filled with incredibly low lows and high highs.
How Are The Lives Of Red Auras Professionally And Financially?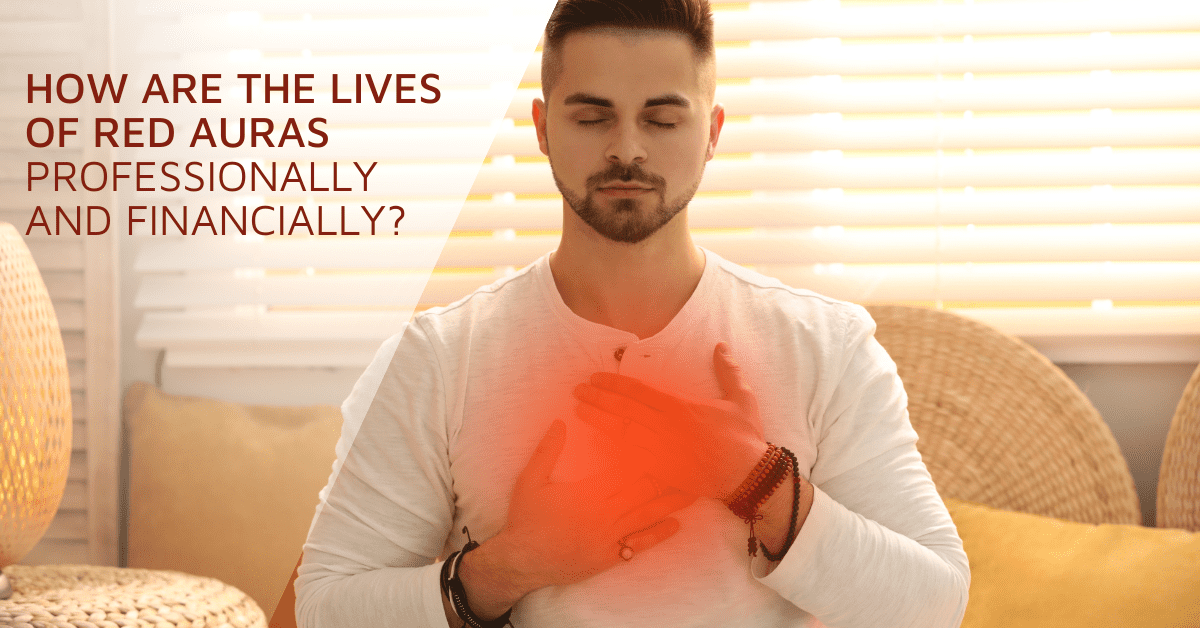 When it comes to creating abundance, people with red auras are nearly unbeatable. These people manifest wealth. In fact, these people are so good at manifesting financial gains only because of their passion and drive. And the presence of these feisty characteristics makes these people exceptional leaders. Since people with red auras are born leaders, they can steer any professional endeavor toward success.
For that reason alone, folks with red auras handle their own businesses like a champ and even shine as politicians. These people are prime candidates as military personnel and become demanding yet productive managers. So, if you like to tell people what to do and occasionally yell at them, too, then you have a red aura.
Summing It Up
So, if you need to get something done, you should have this red colour aura. There are no two ways about it. Anyone with this aura is fearless, grounded, and fiery. These people are passionate about getting the best for themselves.
People with this aura are also born leaders and are quite good with their finances as well. The only drawback with red is that they find reining in their temper quite hard. That is why they need to learn the art of controlling their temper.
If people with red colour auras can channel their high energy into building a better career or creating something productive, then nobody will be able to stop them. 
Now, we have talked enough—and it is your turn to tell us. So, do you feel you have the characteristics of a red aura? If so, what is the one thing you like and dislike about being a red aura?
If, however, you are not a red aura, let us know about your encounter with anyone who has it. Come on, what is stopping you, huh? Drop your thoughts in the comments section below. We are so stoked to read your responses.